2008年 11月 29日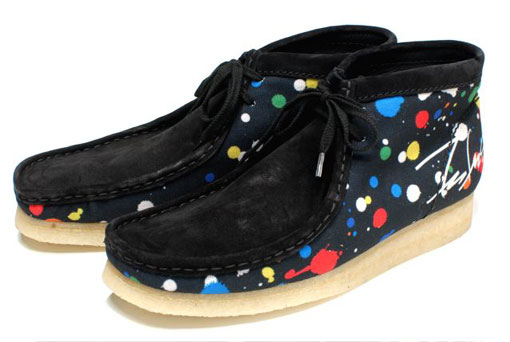 more pictures
It is appearance of the third collaboration series bounce by active worldwide multi artist "FUTURA" and highest peak "CLARKS" of the comfort shoes. The world sale is scheduled, and release in Japan by 500 limitation.
The model is choice as for "WALLABEE BOOT" to obtain explosive popularity by the street scene that centers on New York of 80'S. The work of FUTURA is dropped to the part on the side as it is by using suede for the part of the shell, and the material uses the canvas. Finish according to the thing for Inn Saul's LOGO to use the multicolor that seems to be FUTURA.
Price 20.790 JP yen
Deliv. Jan ~ Feb
SIZE UK 7 1/2 , 8 , 81/2, 9, 91/2 and 10
HOW TO GET THE ITEMS.
Please inform me of the following matters by E-mail.
climb@climb1999.com
1.Hoped item and amount
2.Mailing address of luggage
3.Account of Paypal
The items price and the carriage will be fixed and we inform by E-mail.
I will use EMS for sending.
I will inform of the track number by E-mail after shipping the items.