2008年 11月 29日
| | |
| --- | --- |
| FUTURA meets G-SHOCK & BE@RBRICK!!! | |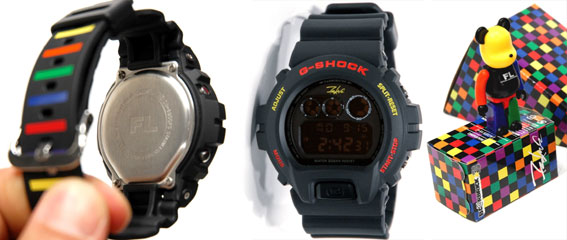 more pictures
FUTURA that has achieved top brand and a lot of of the world collaborations announces full and Coraboratomodel "FUTURA G-Shock DW-6900" with the CASIO G-Shock of ..possession.. fan expectation is announced.
All are premium limited items of 1000 in all parts of the world limitation by FUTURA original graphic from the face to the arrival at the belt and the box.
It gives priority to the design of externals over the liquid crystal backlight that the logo is made to come to the surface originally, and daring the logo uses a black liquid crystal that doesn't float. It is being designed by the multicolor of the FUTURA forte by the belt part and BOX, etc.Moreover, it is a stamp in the back lid as for "FL" of Shignacharbrandorogo of FUTURA.
Moreover, the FUTURA BE@RBRICK SPECIAL MULTI COLOR version that does MEDIOMTOY and the collaboration makes a set this time, too.
It is finished for not only the FL freak but also the hand by all means ..the
excellent article wanting it...
DW-6900
Basic model DW-6900 of G-Shock immortality. The main stream style that keeps supporting the history of G-Shock is done in the form of ultimateness to which getting tired never comes.
- ) with total for 24 hours and splits") * timer (The unit of the set: maximum set for one second: It measures and autorepeat every second of 24 hours)* multi-alarm and system display switch * EL backlight (with afterlight function)* Houot flash function of 12/24 time signal * full auto calendar * time. (alarm/time signal/timer synchronization luminescence)
Deliv. around Dec.5th
Price 24.150 JP yen (w/ bearbrick)
HOW TO GET THE ITEMS.
Please inform me of the following matters by E-mail.
climb@climb1999.com
1.Hoped item and amount
2.Mailing address of luggage
3.Account of Paypal
The items price and the carriage will be fixed and we inform by E-mail.
I will use EMS for sending.
I will inform of the track number by E-mail after shipping the items.